Health Freedom Victory in Texas
by Tony Isaacs (TheTruthAboutCancer.com) "This system operates on fear, you have no fear and that's a problem for us." − District court official to Ben Taylor in private chambers." …In January 2013, a small supplement company and its owner scored a health freedom victory in Texas for health freedom nationwide. This happened when all charges against the Utopia Silver Supplement Company and its owner Ben Taylor were withdrawn (i.e. non-suited) by the Texas Attorney General after 9 years of a protracted struggle instigated by an emailed FDA complaint to the Texas Attorney General. Though not as widely publicized as cases such as the Dr. Burzynski trial, the implications may be even larger.
When the State of Texas and the FDA (via their FDA "Commissioned Officers" in the Texas State Department of Health Services) first began action against Taylor, they likely thought that they had easy targets in small town Taylor and his modest supplement company. However, instead of the intended precedent on how far they could go in suppressing online supplement sales (particularly of Colloidal Silver) and testimonials, Taylor's refusal to roll over turned into a precedent-setting victory for health freedom. It is a powerful example of how the authoritarianism of the FDA can be thwarted.
Texas Department of State Health Services vs Utopia Silver, Inc.
After an email complaint by the FDA to the Texas Department of State Health Services (TDSHS), the State of Texas Attorney General's office began pursuing action against Utopia Silver, Inc. They later pursued Taylor personally after he bought out the assets of Utopia Silver, Inc. and started Utopia Silver Supplements.
Initially, the State maintained that it was simply a State action, but the facts of the case proved otherwise…
Besides the original complaint coming from the FDA, Taylor discovered through Texas Public Information Act requests that the prosecuting Texas Assistant Attorney General and TDSHS officials were commissioned as officers of the FDA. In reality this made the case a Federal action by proxy which pitted Utopia Silver Supplements against the Goliath of the FDA.
Further proof that the FDA was calling the shots came when the prosecution reneged on a settlement and one of the prosecutors informed Taylor that they were backing out. This was at the behest of the FDA because the FDA intended to make Taylor and his company an example. They wanted to set a precedent on just how far they could go in suppressing online supplement sales in general and colloidal silver in particular.
Making "Disease" Claims Not Permitted
In the FDA's complaint, they essentially maintained that Utopia Silver was making medical claims which, in the eyes of the FDA, turned their supplements into medicines. The TDSHS then brought the complaint to the Office of the Texas Attorney General (TAG).
It was later determined that among the targeted objections were: having "disease" terms such as cancer, hepatitis, diabetes, etc. posted anywhere on the website. It also included having any "disease" terms in a search engine. And lastly, it included the posting of testimonials from customers who had used Utopia Silver products and defeated or improved any "disease" condition.
Taylor Claims Freedom of Speech
Taylor and his supporters, including Alfred Adask (a former Texas Supreme Court candidate for the Libertarian Party) and other scholars of Organic Law, determined that the complaint was without merit. They also found it to be a clear violation of God-given unalienable Rights secured by both the Texas and the U.S. Constitutions − especially the right to freedom of speech.
At one of the last court hearings, Taylor refused to agree to a trial date. He also informed the court that he refused to submit to their "claimed jurisdiction." He said that if forced to trial he would show up only to defend his God-given Rights, just as he had been doing in three years of pre-trial hearings.
When it appeared to some observers that Taylor might be cited for contempt, Taylor stood his ground and was then asked to go into private conference chambers by the presiding State District Court official. After a short conference in which Taylor was subtly threatened by that official, Taylor reports that the official told him grudgingly and with resignation:
"This system operates on fear, you have no fear and that's a problem for us."
Taylor's simple response to that revelation today is that, "Patriots do not fear tyranny, they resist it!"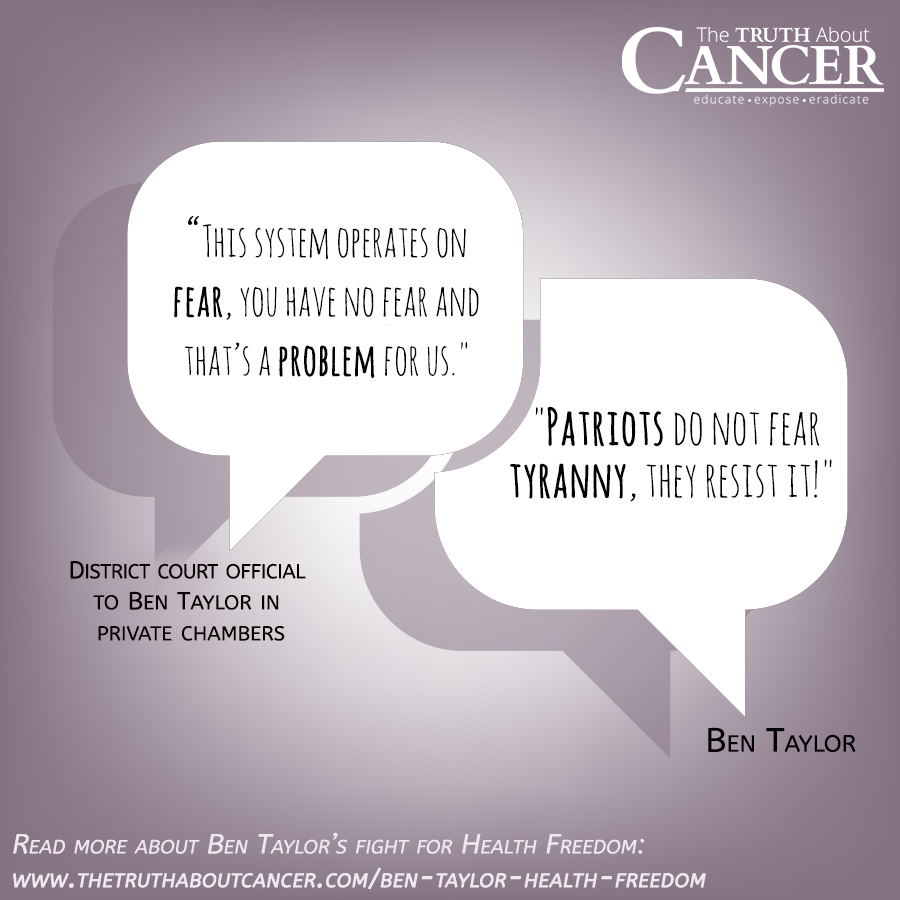 Author's note: When news of Ben Taylor's victory first emerged, people far and wide were clamoring to tell his story and interview him – but, after an almost decade long struggle under fines totaling $27,000 per day for 9 years, Taylor decided to "let sleeping dogs lie" in order to focus on his business. Now that the he and many others believe that the country seems to be on the path to correcting a corrupt legal system he is more receptive to having more of his story being told and I am proud to be able to debut his story here at TTAC. Taylor' and his small supplement company scored a health freedom victory in Texas for health freedom nationwide.
You can also listen to Taylor discuss his ordeal on this podcast: http://www.blogtalkradio.com/tbyil/2017/01/26/this-weeks-guest-is-ben-taylor-owner-of-utopia-silver
About the author
Tony Isaacs is a natural health advocate and researcher and the author of books and articles about natural health including Cancer's Natural Enemy.  Mr. Isaacs articles are featured at The Truth About Cancer, the Health Science Institute's Healthiertalk website, CureZone, the Crusador online, The New Zealand Journal of Natural Health, the Cancer Tutor and several other venues. Mr. Isaacs also has The Best Years in Life website for baby boomers and others wishing to avoid prescription medicines and mainstream managed illness and live longer, healthier and happier lives naturally. In addition, he hosts the Yahoo Oleandersoup Health group of over 3500 members and the CureZoneAsk Tony Isaacs – Featuring Luella May forum. Mr. Isaacs and his partner Luella May host The Best Years in Life Radio Show every Wednesday evening on BlogTalk Radio.
Read More Silver Bulletin Natural e-News, Articles, & Information (CLICK HERE TO READ MORE)
Categories: SILVER BULLETIN e-NEWS MAGAZINE, Tony Isaacs, Uncategorized